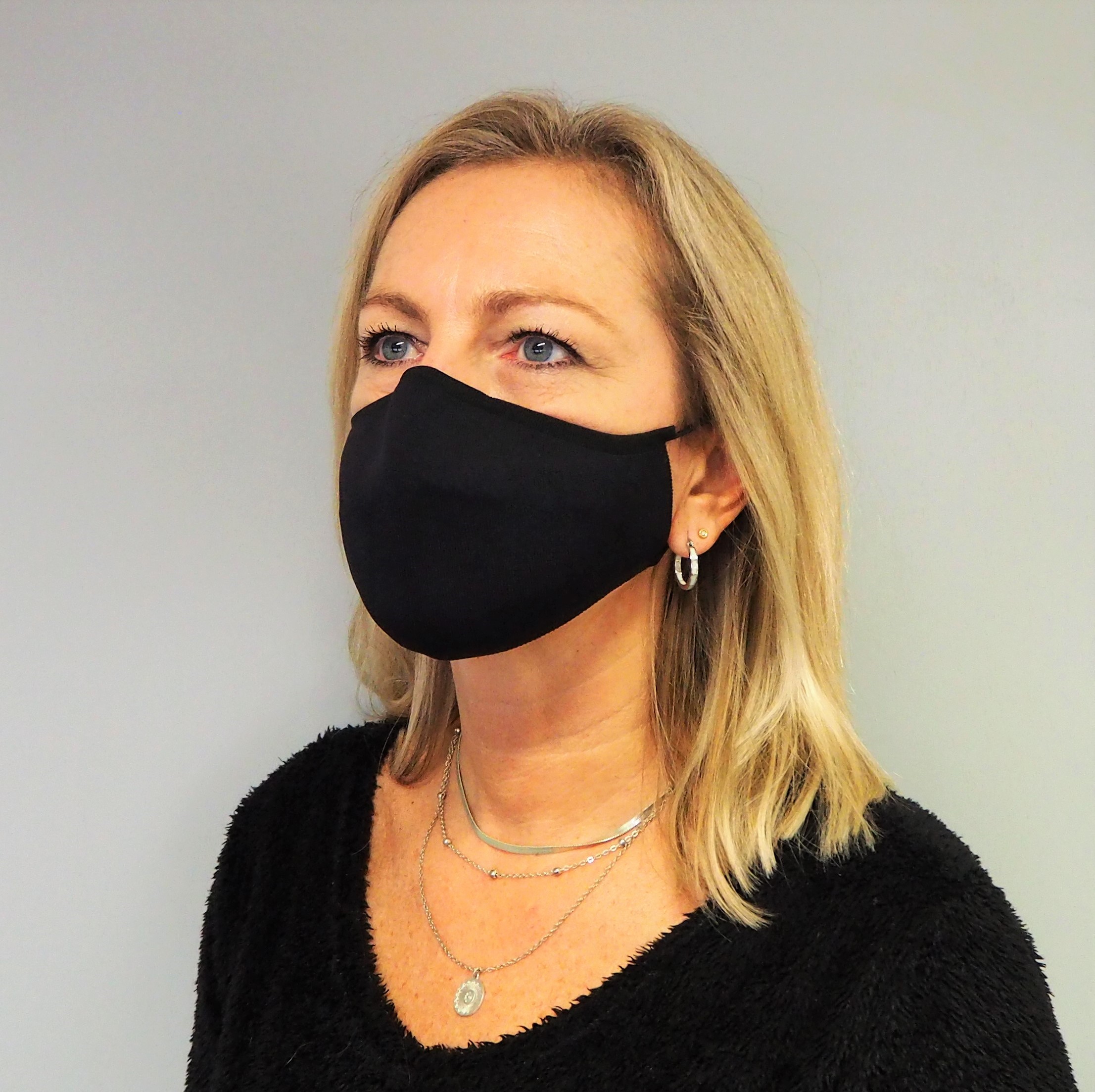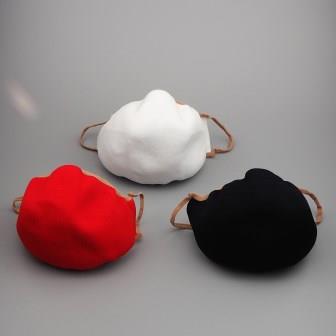 Steiger, founded in 1949, produces industrial flat knitting machines for three market segments : the fashion industry, the medical sector and technical knitting. In our factory in Vionnaz, we produce machinery for the European market for the production of high-quality knitwear.
Due to the Covid-19-crisis, we decided to modify these machines and knit finished products for the first time in our history, namely protective masks.
Colour white, black or red
Available in size 3 and 4

Masks layouts, size 1 to 4
The masks are produced on a new machine type able to knit fabrics in 3 dimensions. High tech, this zero waste mask exits the machine almost wearable.
Thanks to technological innovation, we are able to insert the elastic seamlessly during knitting. This allows us to skip one production step and increases comfort. These ecological masks are an effective way to protect yourself
The masks have been designed and certified according to AFNOR "Masques barrière" standards. The filtration efficiency of the 3 micron particles must be:
90% for category 1 (protection of professionals)
70% for category 2 (consumer protection)
With a filtration capacity of 99%, our masks greatly exceed the limit which allows category 1 masks recommended for professionals in contact with the general public.* However, they are not intended for caregivers or sick people.
When you leave home, the distance requirements cannot always be guaranteed. These masks provide efficient protection for yourself and others to limit the risk of spread. As a general rule, they are intended for people travelling in public or shopping. They can also be used for professional activities where contacts cannot totally be avoided.
We recommend wearing the same mask not longer than 4 hours.
Care / maintenance:
Wash at least at 60 degrees for 30 minutes
Or disinfect with disinfectant spray Pantasept (leave to act for 2 min), then rinse with warm water.
Size
Masks are available in size 3 and 4
This model will be followed by even more innovative models with new shapes and colors.
* Reference of the test report: RP / 20-4069 / DGA NMRBC / 2000305 / NP. The measurements were carried out on single color masks. Adding a design / logo may have an effect on the measurement result.
Please send the amount of your order and shipping costs to our Paypal account, or to the bank account of Steiger Participations SA, 1895 Vionnaz  IBAN CH4604835143255051000 (Credit Suisse)
The ordered goods will be sent to you upon receipt of full payment. Due to the success of the product, the delivery time is about 1 week.

For lower quantities, please contact our representative Jeremy Gomez
We recommend that healthcare professionals contact our distributor for more personalized deliveries.
Distributor for Swiss market :